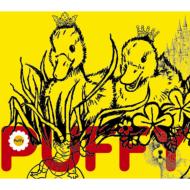 np: puffy amiyumi > nice buddy



http://audio.search.yahoo.com/

i guess yahoo just got this up and running, it's pretty cool. i used it at work today a couple times and was able to find what i was looking for. you know the drill; just type in the artist and/or song title.

unfortunately, the above mentioned puffy amiyumi track doesn't show up in search. it's too bad, because it's a fucking great song. andy sturmer is truly the godfather of puffy, it's pure power pop goodness at full tilt. i love it when they sing "if i could, i'd eat the clouds, it's how i feel". perhaps if you ask nicely, i'll let you come over and listen to it. if you wanna go buy it, it think it's called "don't stop!" in english. on hmv.co.jp, the title is "hajimari no uta"...but i don't know what that means. the cover is pictured above.

i've also been running with a stereolab obsession. i went to amoeba the other night and bought four albums, which brings my stereolab collection to nine titles, essentially doubling what i had.


abc music

dots and loops

margerine eclipse

mars audiac quintet

peng!

refried ectoplasm (switched on volume 2)

the first of the microbe hunters

transient random-noise bursts with announcements

switched on volume 1
teenage fanclub are playing tonight, at bimbo's 365 club. i have an early game, so i think i'm gonna hit the show right afterwards. i've seen teenage fanclub once, opening for radiohead in 97 or something. it was when ok computer was released. it was a great bill, i thought. i've never been a huge fan of tfc, but i've always enjoyed their jangle power pop style and their sometimes quirky lyrics. i have four of their albums:


bandwagonesque

thirteen

grand prix

four thousand seven hundred and sixty-six seconds
i'll probably try to pick up a couple more if i make it out there. i always like buying cd's at shows. it's a nice souvenir and it's a good way to support the band since they usually own those copies. there's no middle man to take a percentage of the sales. anyways, see you there.